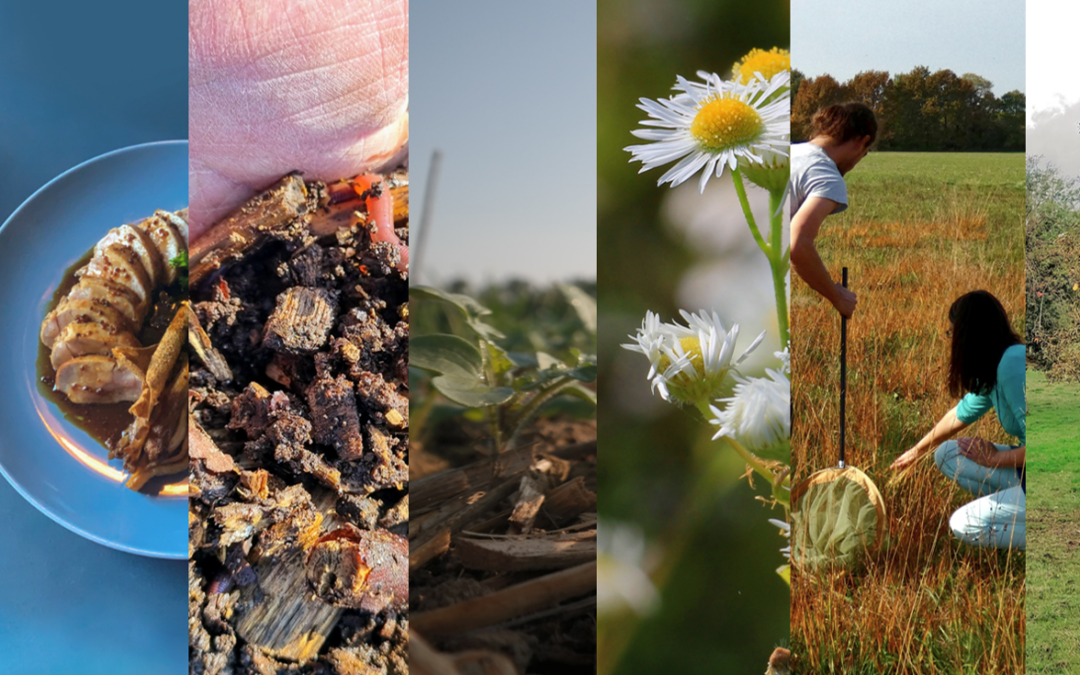 Over the past 3.5 years, Contracts2.0 partners have worked on agri-environment-climate-measures in and with various regions and its stakeholders. Many valuable professional but also personal relationships have formed. Some of these unique regions, its people, products and measures are portrayed in these photographs, accompanied by their origin story. 
The Small Heath
Germany © Picture: HiPP GmbH & Co. Vertrieb GmbH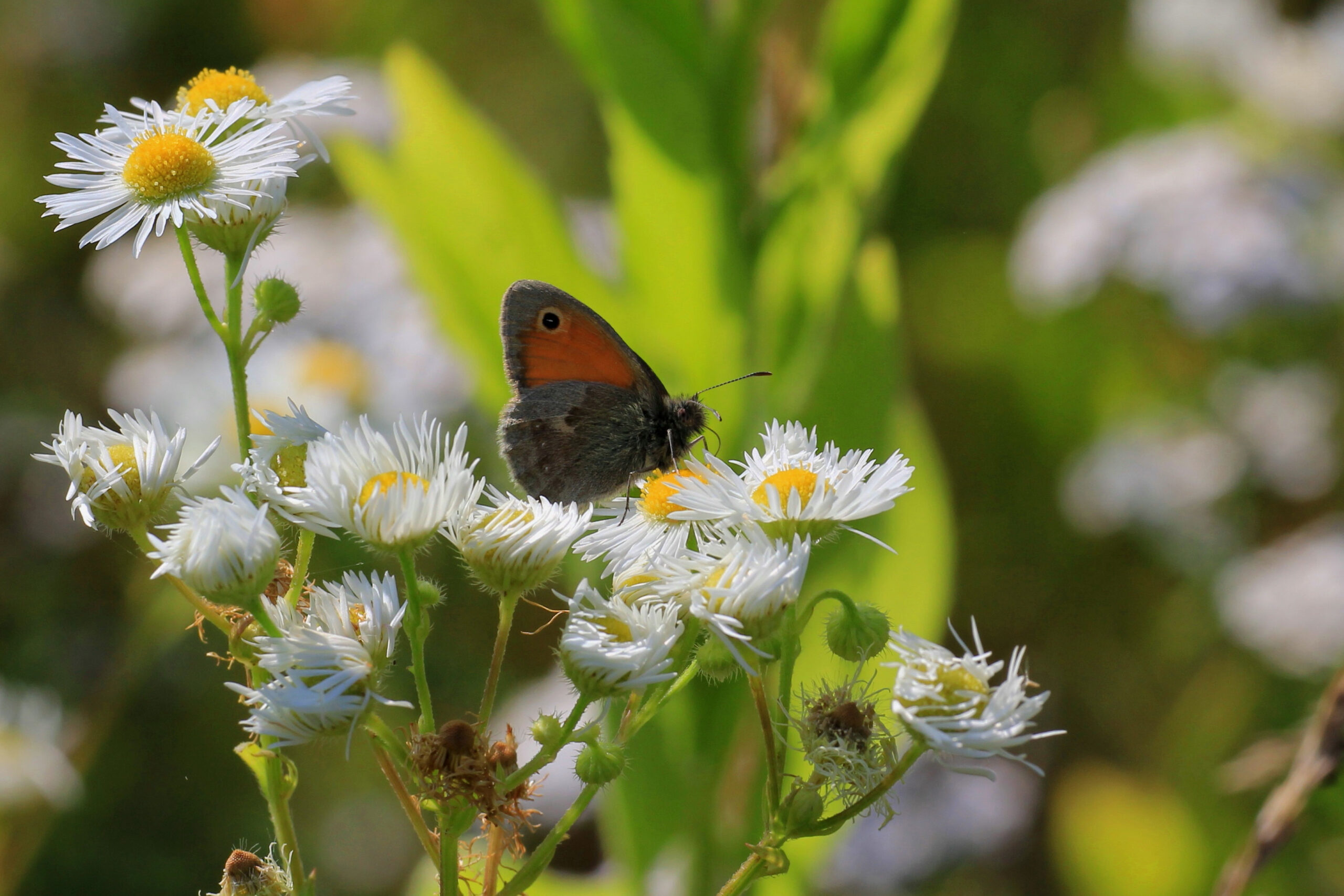 The picture shows a Small Heath (Coenonympha pamphilus) at HiPP's model farm for biodiversity, the Ehrensberger Hof. Value chain approachesare cooperation models to valorise environmental public goods within value chains. To ensure consumer trust, companies increasingly demand greater transparency about the management and delivery of public goods on supplier farms. S... More have great innovation potential: They have a strong bottom-up approach and can be adapted to the local situation in a targeted way. HiPP and many other organic food companies have been committed to respectful interaction with nature and natural resources for many years. They follow a multifaceted engagement for biodiversity and ecosystem services along their value chains.
Food production depends on numerous biodiversity and ecosystem services. One example is pollination services provided by insects. Insect biodiversity has declined severely in recent decades in Central Europe. For this reason, the HiPP company, in collaborationPeople working jointly towards a common goal, involving regular interaction among the collaborating individuals. May also apply to organisations. Belongs to the range of collective approaches. Synonym: Cooperation More with the Bavarian State Collection for Zoology (ZSM) and the Bavarian Natural History Collections (SNSB), initiated a study to investigate the impact of organic and conventional farming on insect diversity.
This study was the first to quantitatively and qualitatively demonstrate the effects of different agricultural practices on biodiversity using molecular methods (cf. Hausmann et al., 2020). At HiPP's model farm for biodiversity, the Ehrensberger Hof near Pfaffenhofen an der Ilm, 260 % more insect biomass was detected compared to the conventional trial farm in 2018.
This shows the importance of promoting organic farming and other biodiversity measures as part of value chain approachesare cooperation models to valorise environmental public goods within value chains. To ensure consumer trust, companies increasingly demand greater transparency about the management and delivery of public goods on supplier farms. S... More. Please visit the website for more details.
Text: Birte Bredemeier, LUH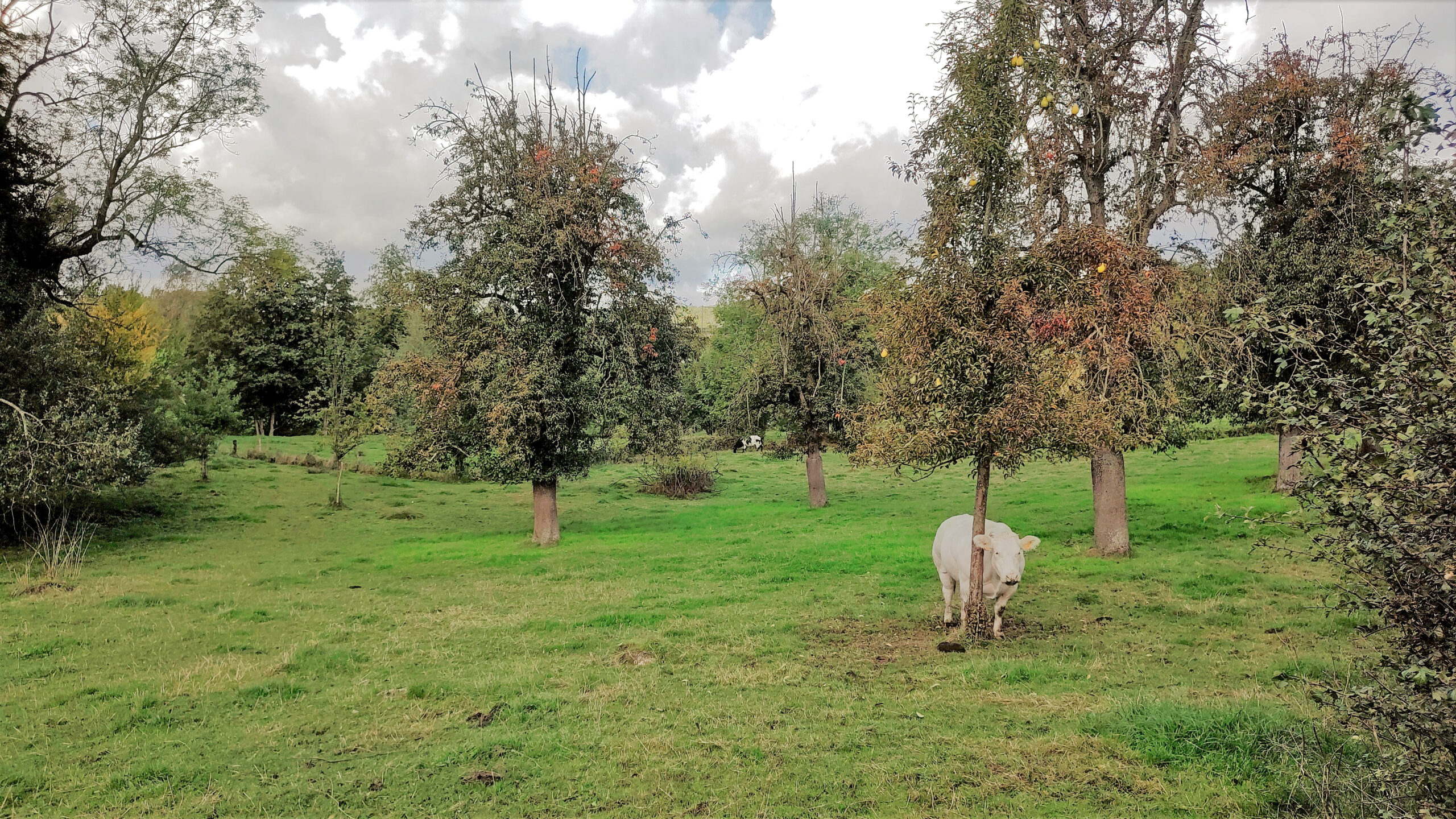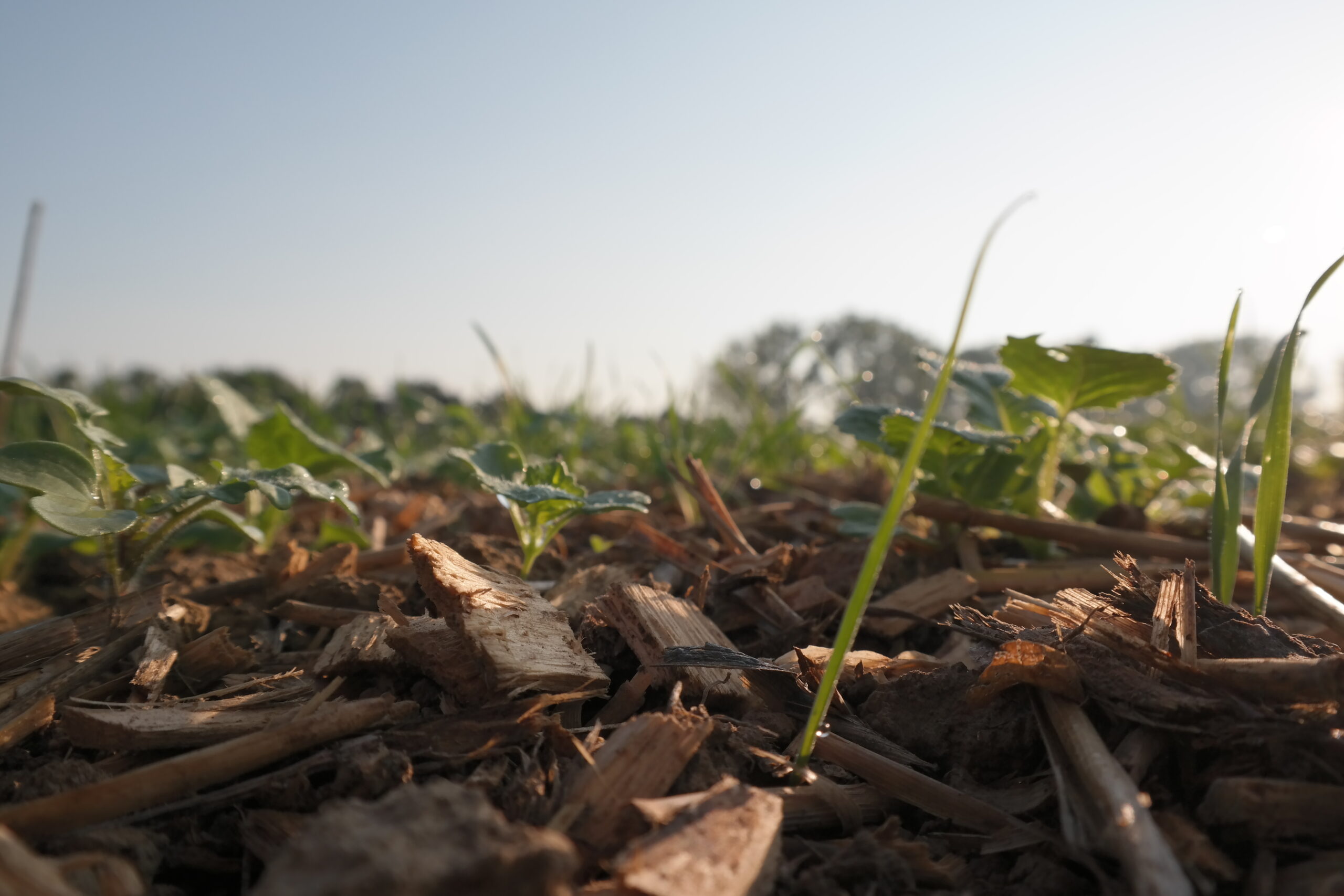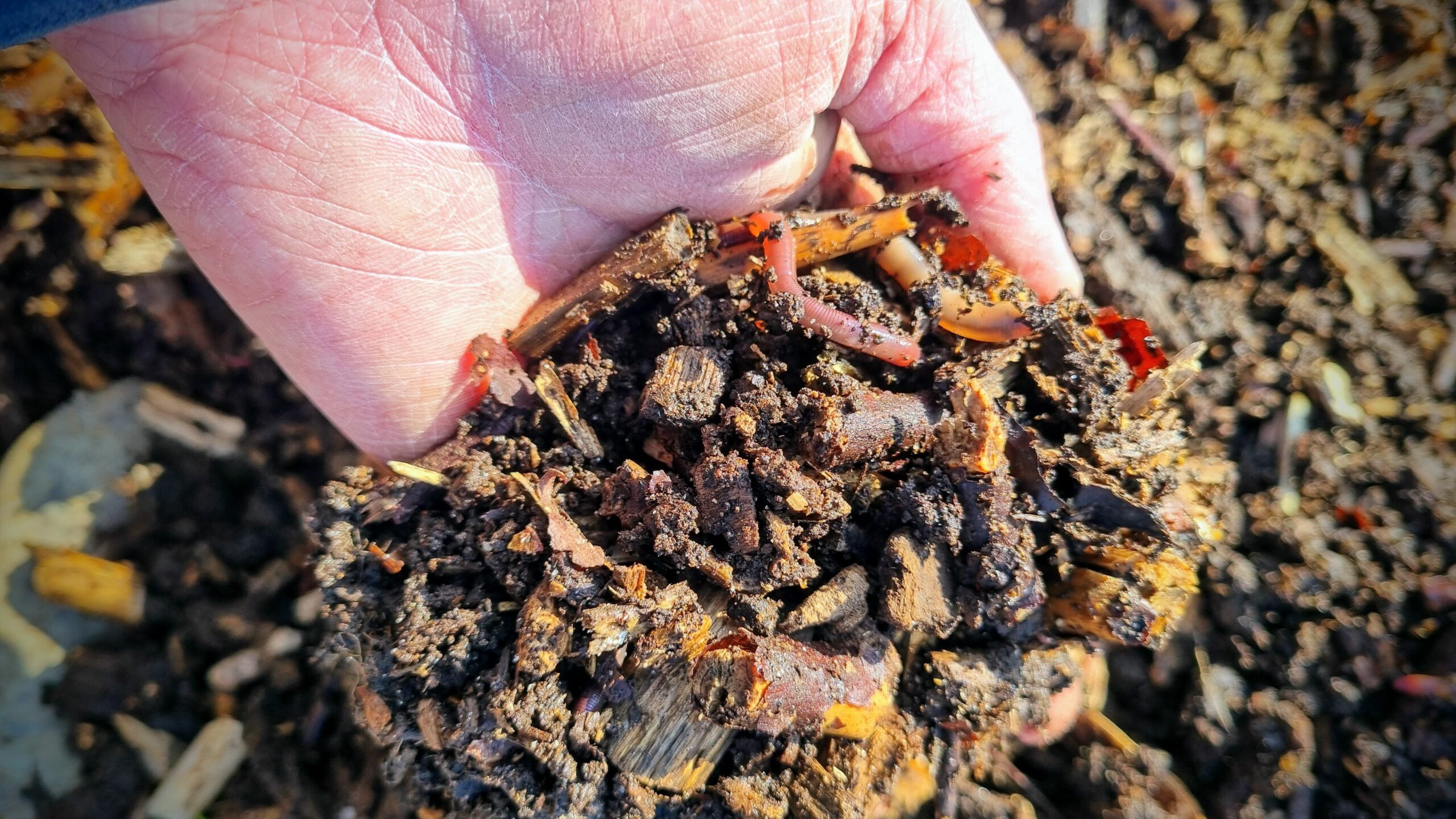 Three pictures were created in our case study regions in Flanders, Belgium. In Voeren, a western part of Belgium (where the white cow unsuccessfully tries to escape the camera by hiding behind a tree) we aim to preserve the landscape, biodiversity, and agricultural values by including grasslands and woody elements.
Our CIL-case Koolstofboeren (carbon farming) aims to increase the organic matter content in soil by incorporating wood chips from landscape management in the soil, which has a positive effect on the soil structure, water infiltration, erosion control and soil biodiversity as can beautifully be seen in the two pictures showing the soil.
Castiglione di Garfagnana in Early Summer
Italy © Cinzia Lenzarini, Unione Comuni Garfagnana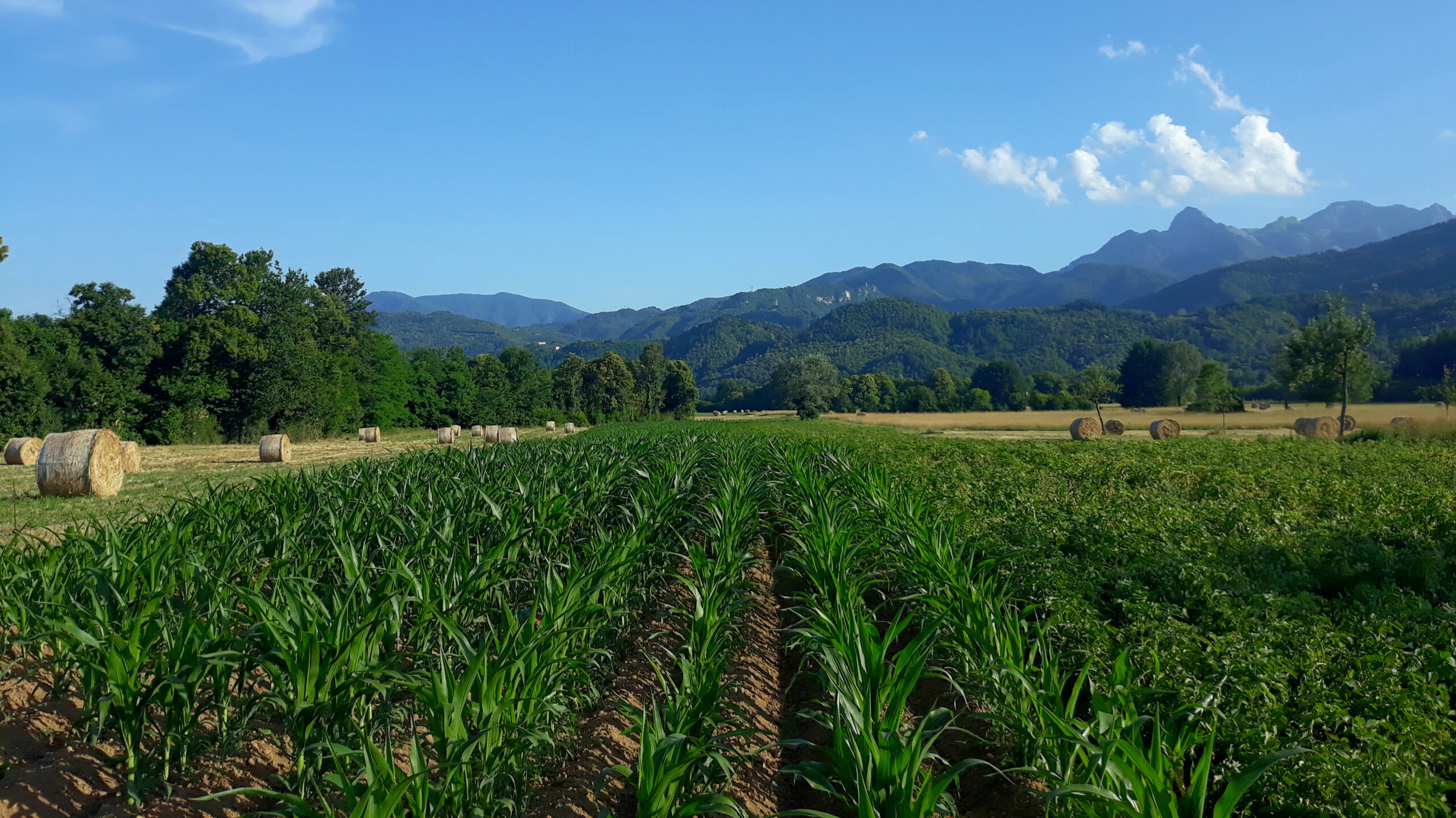 This small and rare plain enclosed by mountains still offers a manicured and harmonious agricultural landscape, just as we would like our territory to continue to be. In the background, the Apuan foothills give an idea of the orographic complexity and great expanse of the forest, where Chestnut groves survive with centuries-old majestic plants, interspersed with small, ancient orchards rich in biodiversity.
To the right, the Omo Morto chain (Apuan Alps) which dominates the landscape, with its unmistakable silhouette of a sleeping giant.
In the field in the foreground, alternate horticultural species of local varieties now at risk of extinction such as the Nano di Verni corn, the Rossa di Sulcina potato, the Rossetto wheat, the Giallorino della Garfagnana bean, and finally the bales of hay, ready to feed the small flocks and herds of local breeds: white Garfagnina sheep and Garfagnina cow.
In this valley farmers are the custodians of an endangered animal and plant genetic heritage, which has survived the great social and economic changes. It has now fallen to us to capture its flavours, agronomic traditions, myths, and tales that have sprung from it.
In this snapshot we see much of the agricultural Garfagnana, rich in biodiversity and culture, sculpted by the strong identity and tenacity of its inhabitants. It is preserved by the will and passion of custodian farmers, suspended between abandonment and difficult enhancement and redevelopment of life in mountain and interior areas.
Gentian Caching
Hungary © Eszter Cibik, Őrség National Park
Here we are in a molinia meadow, in the Őrség national park. Every condition favours species-rich grassland: high annual rainfall and humidity, mild temperatures, soil moisture…
What other things are necessary for long-term nature conservation? Good relationship and communication with farmers. Results-based payment (RBP), as a planned contracta formal, written agreement for a specified duration signed by (at least) two parties. In Contracts2.0, we acknowledge the existence of informal contracts but use formal contracts to focus the research. More type was discussed and chosen with local stakeholders, including farmers. RBP focuses on species-rich hay meadows in Őrség and some of the farmers take part of the testing.
In the picture, you can see a caught moment, when the farmer and me are monitoring the unmown parcel of the meadow. He was obliged not to cut 5% of the grassland in order to enhance seeding. The marsh gentian (Gentiana pneumonanthe), one of our protected species, is a defined indicator, that scores in RBP. Bingo! We have just found several ones in blossom in the unmown area in that moment. Thus, we are on the right path to increase their numbers.
In the field visit, structure elements, plant and butterfly species are monitored – following an indicator check list. The butterfly net functions also as a modern shepherd's crook as you can see. Farmers are usually surprized at first, then enthusiastic about counting butterflies.
Farmers are more positive towards AECMs, if they are part of the planning process. They are also willing to and capable of measuring indicators.
Fuenlabrada Agricultural Park
Spain © Inés Gutiérrez Briceño, UAM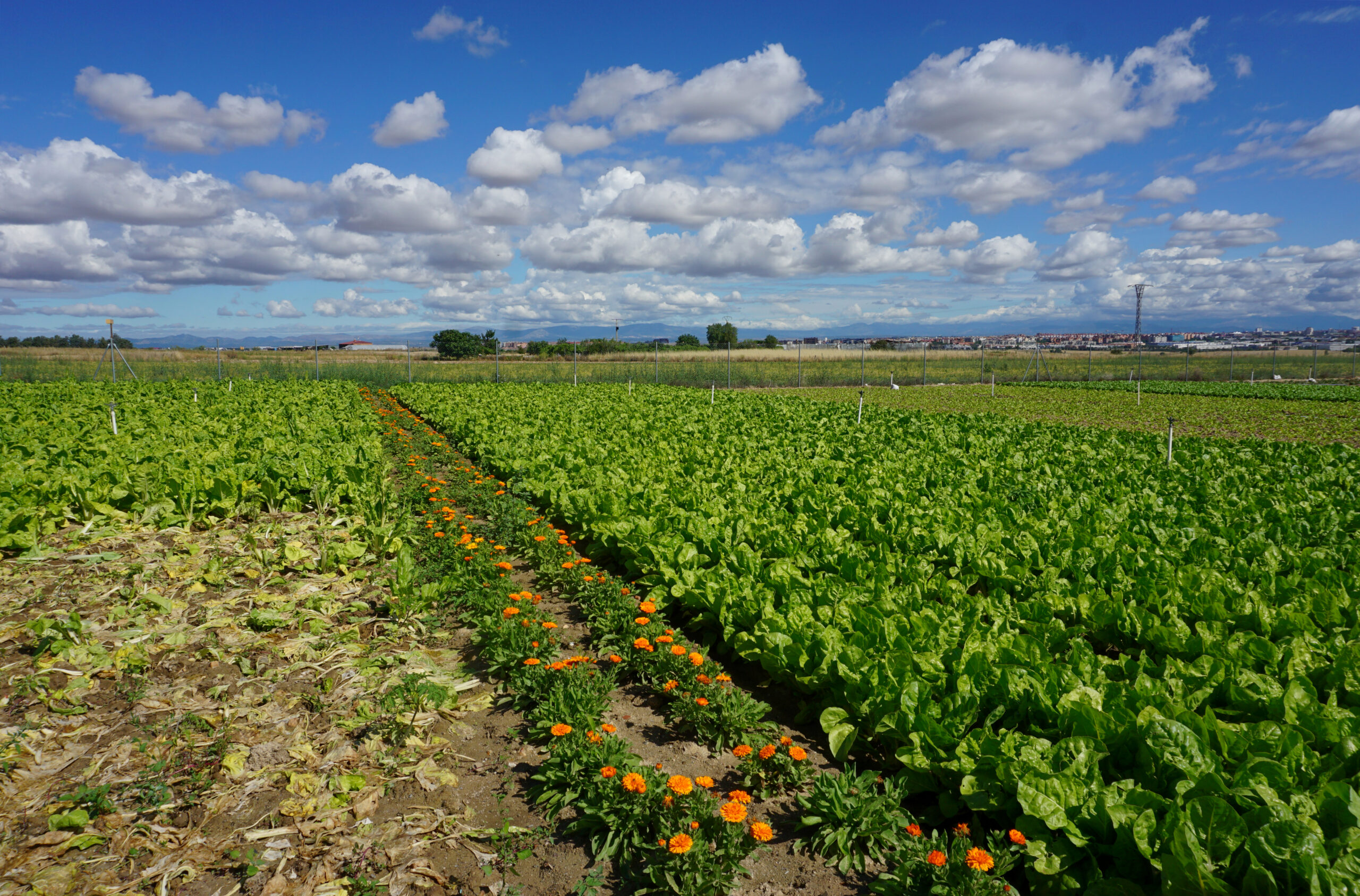 Given the paradigms of global change, Fuenlabrada agricultural park was created to support peri-urban agriculture in the metropolitan region of Madrid. Despite the strong urban sprawl during the last decades, horticultural production has been maintained in the area. The agricultural park strengthens this production from an integral perspective and articulates actions based on the needs of the agricultural sector. The maintenance of this activity has also allowed the conservation of traditional varieties and the traditional agricultural practices associated with them, as is the case of the local Fuenlabrada chard.
The photo shows the mountainous area in the north of the region in the background, the city of Fuenlabrada nearby, and in the foreground one of the horticultural productions that make up the agricultural park. Among the chards, a strip of calendula flowers, can be seen, which is planted to attract beneficial insects for the orchard such as pest controllers or pollinating insects. In addition, these flower strips bring many other values, such as cultural and aesthetic values. Furthermore, by strengthening the multifunctional role of this activity and the restoration of the agricultural landscape, these areas are a space where it can be developed for environmental, sports and educational activities. These activities must be compatible with sustainable and local production, which will help to empower farmers who work there.
Will & Zac
England © Annabelle LePage, Natual England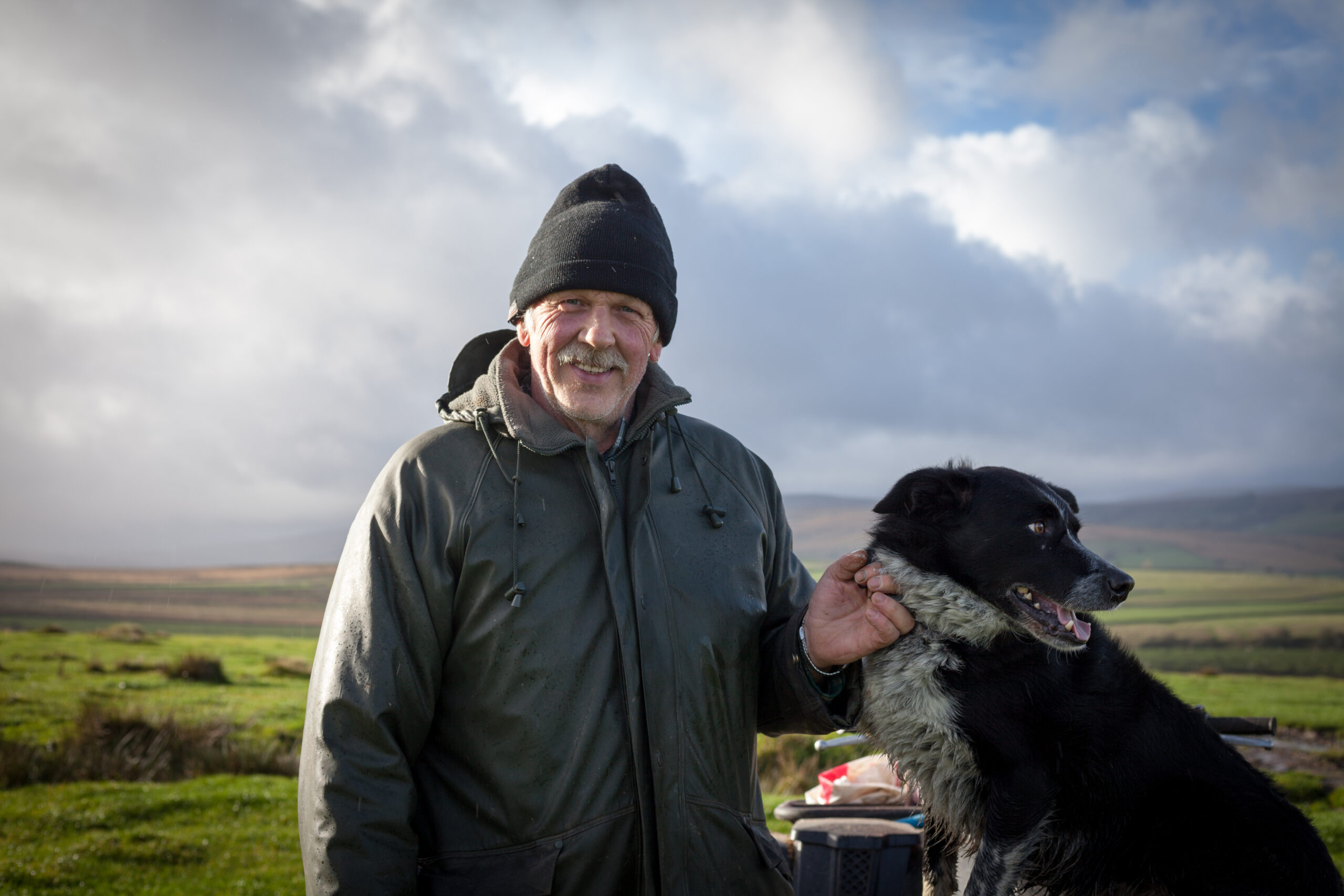 Will is a hill farmer in the Yorkshire Dales. He has a commercial sheep and cattle enterprise based on hardy crossbreeds. He runs his upland farm alongside his brother, and their family have farmed in the valley for many years.
Will is also an active participant in the development of England's innovative new agri-environment schemes. He was a member of the grassland results-based pilot, and is pictured here with sheepdog Zac in one of his best fields for breeding waders, in which he has seen around 70 curlews at once present in the spring.
In the background behind Will, Zac and their quad bike, we can see some of the excellent habitat qualities like the varied sward and plentiful tussocks which provide shelter for the birds. On the horizon, we can see the dramatic, rolling hills of the beautiful yet challenging Yorkshire Dales landscape in which these farmers provide so many benefits for natural and cultural heritage.
Will is an inspiring example of a hill farmer who is working well for both his own business, for the public, for other farmers and for nature.
Text: Jennifer Dodsworth
The Sunshine Island
Bornholm, Denmark © Louise Vercruysse (left) and Lisa Sharif (right)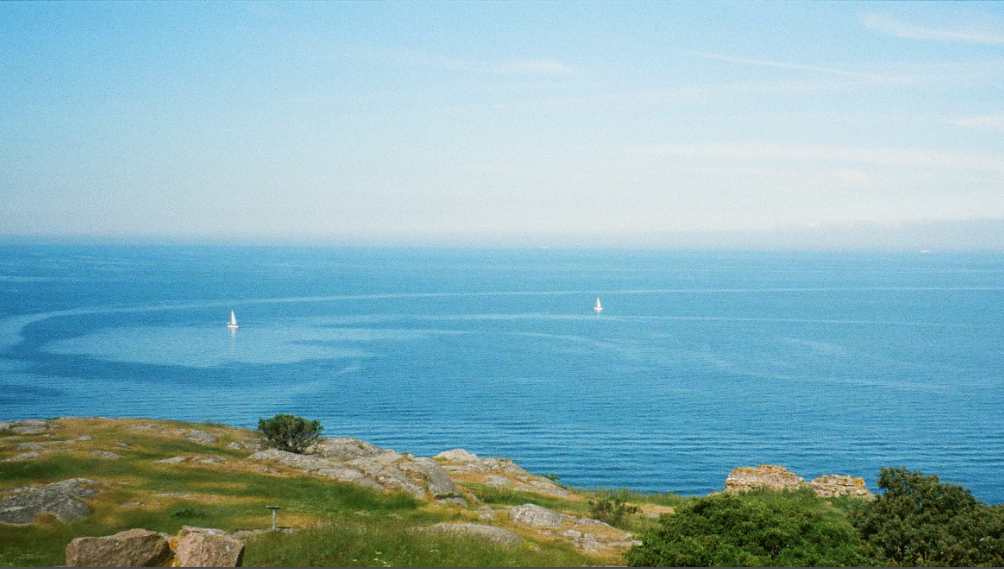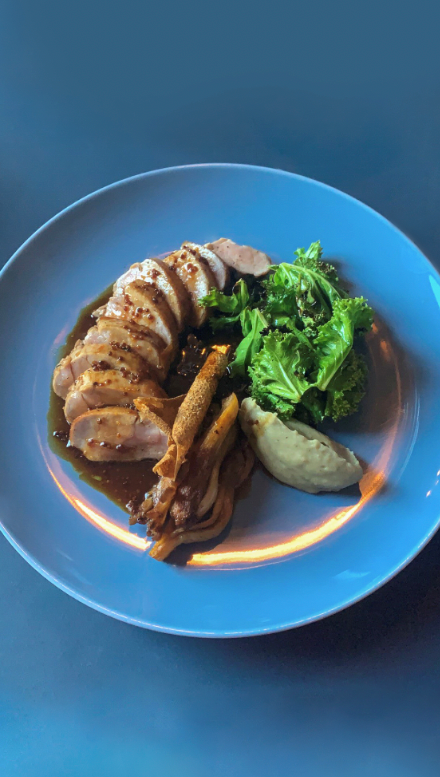 One of contratcs2.0's case study regions is the Danish Island of Bornholm. After the 2022 Consortium Meeting in Copenhagen a few colleagues visited this unique part of Europe. We spent a beautiful sunny day hiking along the coast, inspecting the landscape (we found an orchid!), watching birds, discussing our research, and even taking a dip in the clear cold sea.
The picture of the ocean, taken on an analogue camera by Louise Vercruysse, marks the start of our hike – the dinner plate full of exclusively local products the end of it.
It was a humbling full circle moment: to have spent the day walking through the region where farmers produce the foods on our plates and seeing the positive effects of their landscape management.
International research projects are no walk in the park (neither is hiking with Francis by the way), I learned that much very quickly. But today, it brought us here today, from all over Europe, brought us closer together as colleagues and friends. Let's remember why it will be worth it: we are working on securing the possibility for future generations to take the same photographs as us on this day – of wonderful local food products, blooming landscapes, and clear water.
Text: Lisa Sharif, DBV
The Danish Jersey Cow
Bornholm, Denmark © Louise Vercruysse, INBO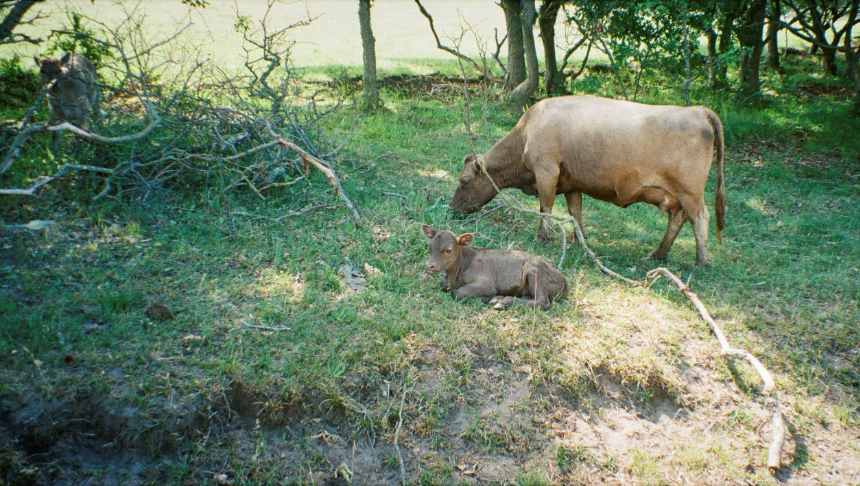 We encountered these lovely cows during a day-long hike on the island of Bornholm – the Sunshine Island. It was late June, just after the Contracts meeting in Copenhagen, when some of the meeting attendees wanted to explore the natural surroundings where the Danish Contracta formal, written agreement for a specified duration signed by (at least) two parties. In Contracts2.0, we acknowledge the existence of informal contracts but use formal contracts to focus the research. More Innovation Lab was situated, where sustainable grassland contracts were created.
Bornholm carries a fascinating history, as the island has been fought over for centuries. It used to be a Viking stronghold, and we saw some children on a school trip, dressed up as Vikings, as living remnants of that era. Bornholm belonged to Sweden for a while, before becoming Danish territory somewhere in the 17th century. During the second world war, the island was occupied by the Germans and bombed by the Russians. A lot of violence happened on the island. However, when walking the trails, one can only feel a strong sense of peace, being surrounded by the deep blue Baltic Sea and granite rocks. And this peace and joy is what we – humans anthropomorphizing everything – think to see in the faces of the cows we passed.
The Danish jersey cow, lounging in the shade with her new-born calf, seemed pleased. What must she think, overlooking the sea, likely never having touched the salty water? Does she see the humans walking the fields she's grazing as belonging to a world separate from her, a culture opposed to a nature? Does she see her existence and the birth of her calf as being made possible by humans? Is she biodiversity, part of an environmentally friendly farming system, or quite the opposite, a burden?
Live and let live would be a part of the agriculture that Contracts2.0 aims to contribute to: co-designing contracts with practitioners to sustainably co-design farming systems with all human and non-human actors involved.
And so we continued our hike, finding ourselves a shady spot next to the water to take a rest.
We hope you enjoyed this small insight in our project and its regions and people!
We love them all, so we need you to GIVE YOUR VOTE to your favourite case study picture and story!